Posted by ~uh~™ in Bollywood.
Tags: Amit Trivedi, Anupam Kher, Bombay, career, entertainment, family, Iktara, Konkona Sen Sharma, life, Love, movie, Mumbai, Music, photography, Ranbir Kapoor, Review, Rom-com, Shankar-Ehsan-Loy, Supriya Pathak, Wake Up Sid
21 comments
I know, I have developed a reputation of writing bad movie reviews. The interpretation can either mean reviews of bad movies or bad reviews of movies; depending on how much disgusted you are with my reviews.
The point is that, I find it much easier to write on bad Bollywood movies. I normally don't write on movies I like. There are two prime reasons for it.
One- the movies I like are quite obscure, mostly non-bollywood, sometimes even non-hollywood, rare and unheard of [check this article], which restricts my readers putting any useful comment. I find, getting a paltry response and not adding any value (other than notifying handful cinephiles about the existence of such movies) is not enough motivation for me to write about them. However, I have the intention of writing about them in future.
Two- the other type of movies I like are already famous and have obtained a cult following. The reputation of those movies won't change irrespective whether I write about them or not. Such movies are too popular and have been discussed to death in popular forums. Hence there's little left to be discussed afresh. So there's not enough motivation to write on them either.
That leaves me with a very rare occurrence- a new Bollywood movie which is also a Directoral debut, that I can't resist writing about. Examples- Khosla Ka Ghosla (Dibakar Bannejee),Manorama 6 ft Under (Navdeep Singh), Taare Zameen Par (Aamir Khan), Barah Aana (Raja Menon), 99 (Krishna D K). I beleive a good debut deserves a good review.
I liked Wake Up Sid, the debut film of Director Ayan Mukherjee [writer and asst director of Swadesh and KANK]. Honestly, I kept my fingers crossed knowing it's the first bonding between K-Jo and Yashraj, both I hate to the core for their overdose of romance, melodrama and uncommon nonsense.
The basic story of Wake Up Sid is an intelligent cocktail of the ingredients taken from the following successful movies, especially the ones by Farhan Akhtar -
1. Jane Tu Ya Jane Na – Today's youth culture, electronic lifestyle, hedonism and confusion between love and friendship.
2. Dil Chahta Hai- A today's perspective of urbane and jovial youth, living for the present, escaping from the future
3. Lakshya- Dilemma of youth towards the right choice of career, life, ambition and it's repercussions
4. Luck by Chance- Tale of struggle and aspiration of a newcomer in Mumbai.
5. Life in a Metro- Relationship and stress in a big city life.
As it should be well understood, nothing in this script is 'new' at all- a young boy, college friends, parties, rich self-made dad, a sweet mom semi-blind with affection, hedonistic lifestyle, carefree friendship, defocused future and love disguised as friendship. On the other part we have a new girl in town, confident and aspiring, looking for independence and a future in the big city. They meet, they live together and the rest is formula. Like most rom-coms, the script takes some liberty of over-romanticizing of the situation.
Yet, the movie is a superior from the bollywood bandwagon in lot of aspects. Unlike other bollywood potboilers, it's not an over the top, melodramatic family drama soaked in bucketful of emotion and impossibilities. Rather it's a sharp, soft, suave, elegant, practical, colorful, joyous presentation of humdrum life sequences which involves the audience with its not so unexpected twirls. It's simple, feel good entertainment.
For a change, I would keep this one short and list out my reasons for liking the movie-
Exceptional direction by Ayan Mukherjee with a difficult combination of fresh faces and veteran actors like Anupam Kher and Supriya Pathak. Like most Bollywood movies, there's a radical and distinct change in ambiance in first and second half in terms of pace and progress, which would have different appeal to different viewers depending on which generation s/he belongs to.
Ranbir Kapoor is outstanding in his roles, with his natural and high coolness quotient, expressive eyes and just the perfect body language. Konkona heavily reminded me of her role in Luck by Chance and Life in Metro, especially for the conversations on overhead tank scenes of the latter. She is brilliantly ordinary and poignant. I think, this would be one of her best role in commercial Hindi film and one of the best on screen chemistry after Irrfan Khan in Life in a Metro. Anupam Kher's rock-steady performance as affluent but unconventionally responsible dad, complements Supriya Pathak's projection as a lovable mom, trying to bond the pieces of mother–son relationship with her broken English. Rahul Khanna did much better than Bobby Deol (Dostana) and himself (Love Aaj Kaal) in similar roles. In other short roles Namit Das (Rishi) and Shikha Talsania (as Laxmi, is she daughter of Tiku Talsania btw ?) did wonderfully well, the sparkle in Namit's eyes and friendship in Shikha's heart is too bright to be missed. Kashmira Shaw does her bit believably. However, the eye candy girl Tanya's (Kainaz Motiwala- weirdly fair and fresh) story ended abruptly. The Amit guy (Munir Kabani- facebook profile) of the Mumbai beat magazine was prominent with his intellectual-photographer get-up ( something like Prateek Babbar in Jaane Tu, who was also named Amit)
Shankar- Ehsan- Loy's music with Javed Akhtar's lyric is trendy, catchy and groovy. The title track is a potential chartbuster, but I liked the softer 'Jaisa hai koi Iktara Iktara' composed by Amit Trivedi ( Aamir, Dev D) sung by Kavita Seth/ Amitabh Bhattacharyya. The song and visual combo of "Life is Crazy" is probably the most conventional one, yet enjoyable.
The details in the movie is well thought out, the continuity objects are used very well, like the red Lamy used by Konkona or the DSLR of Ranbir. The production quality, camerawork, locations and overall theme is artistically vibrant, urban and contemporary. The set design of the Mumbai Beat magazine office resembled more like a Artist's studio! Some part of the movie reminds us about the fading romanticism of Bombay (Mumbai, for some sick touchy retard whose a*shole is bigger than his brains) which most of us have lost, in the run. It talks about loving it's people to love a city.
The movie talks about one's choice of passion over convention as career, in Sid's case – Photography. I could connect with him when he realizes that he inherited his flair for photography from his dad, and gives his first pay check to him. That was one of the most emotional yet life like moment of the movie.
This movie would definitely connect strongly to the generation of the achieved Ram Mehras and the generation of the aimless Sids, yet for us who belong somewhere in between, who has lost something to gain something,  can pause to say 'been there, done that', before stepping into bigger responsibilities of life.
Overall, a clean cinema with abundant light humour, nominal drama about subtle sweet truths of life packed in a superior production design- a perfect treat for the family!
Posted by ~uh~™ in Bollywood.
Tags: 3CPSM, Anupam Kher, Cricket, Dil Bole Hadippa, formulae, gobar, movie, Punjabi, Rakhi Sawant, Rani Mukherjee, Review, Shahid Kapoor, Sherlyn Chopra, Yashraj films
12 comments
This review was first published on PFC. [link]
Gobar-be-Que

Yashraj movies have always been rich in characters, content, colour, Punjabi and social messages (3CPSM). Every farm fresh YR produce makes life look like a fairy tale taking the audience into an world of happiness and love with an utopian impossibility, which cynics, critics and cynical critics brand as 'entertainment for gobar audience'. What? You have never heard that phrase mentioned before? Well, now you do. Yashraj movies remind me of gobar (cow-dung) – for some people it's the holy goo, an essential ingredient for purification, while for others it's simply a lump of shit.
Dil Bole Hadippa is also not an exception; it's not Chak De India, so it's proves the rule of Rab Ne Bana Di Jodi. Let's look into the 3CPSM in this case –
Characters
The black bhainslo – The most important character of the film, the anchor, the connection. It had a dialogue or two, which am sure the cattle class would decipher easily.
Shanno (Rakhi Sawant) – Well she doesn't have a major role, but that's never been a deterrent for her to showcase her talents and assets. She plays the role of a dancer in a nautanki and the depth of her character can be ascertained from her cleavage. She should have given some more screen time than the black bhainslo. The black bhainslo did not even dance like her.
Soniya (Sherlyn Chopra) – Less is more, that's the bottomline for her. She is a former Miss Punjab (or was it Miss World) who has hots for Rohan. Her primary role was to wear meager shorts, generously oiling her boney legs and wobbling her scantily covered boneless pieces, in a stadium to stimulate the home team players.
Vicky (Anupam Kher) – He is a wealthy man who is separated from his family for the last 15 years for some unexplained reasons. In his haydays, he must have been a complete asshole to estrange a wife like Poonam Dhillon. He drives a Honda convertible that specializes in breakdown on the muddy tracks between paddy fields. He has settled in a small town in Punjab and dreams of winning the 'Aman Cup'- a friendly cricket match played an(nu)ally between his and Lahore's team. He also dreams that his family will return to him someday from London.
Lucky (Dalip Tahil) – He is an old friend of Vicky and owns the Lahore team. His team has won the Aman Cup for consecutive 9 years, so he is very sardonic to cricket competency of Indians. He is loud, wears dresses hired from a nautanki and addresses Vicky as 'laley'.
Rohan (Shahid Kappor)- The muscular star county cricketer from England who carries a dictionary where the word 'defeat' does not exist. Must have been a second hand buy, I fear. He plays a multifaceted role – as a son he is obedient to his old man, as captain of the team he is a hard task master, as a man he is abnormally reluctant to acknowledge the stimulation efforts of Soniya and finally a love struck idiot who proves love is blind beyond belief.
Veera (Rani Mukherjee) – She is the niece of the nautanki owner ( Shri Vallabh Vyas), who generally fools around with a bat and nurtures the dream to make it big for Indian cricket team someday. So she sticks pictures of players on her room and practices with children below 7 years. She is a hard hitter and can bat on either hand at ease. She has the physique of a woman but energy and stamina of a buffalo. That's why Rohan calls her 'Buffalo girl'. Other than playing cricket she occasionally roleplays a male dancer opposite to Rakhi Sawant.
Content
The movie has two modes, namely, the Romantic Mode and Sports mode.
Vicky tricks Rohan and brings him to play and win the Aman Cup for him. Rohan flies down to London and succumbs to his dad's emotional blackmail and agrees to stay for six months. Veera, desperate to play in the team disguises into Veer, a delicate heavy chested sardar with a husky feminine voice, just by using some frugal facial hair and a pair of brown contact lenses. Rohan takes everyone to task to practice hard, but the players seem to concentrate more towards Soniya's oily exhibition. One time, Veera accidentally drops her towel in front of Rohan- who after a quick glance and silent judgment covers his eyes, the first sign of platonic love. Veer quickly switched to Veera and successfully conned Rohan. But Rohan's love grew over time and he tried to exploit Veer's cricketing ambition in exchange of Veera's company, unaware of the fact that they are the same person. He even hugged Veer couple of times but never realizes her as a woman. At this point, the movie goes into the Sports mode.
I will not spoil the suspense by describing the cricket. All I can say, I have never seen such cricket. Rohan's team, who diligently ogled Sonya's oily bobbles during practice sessions, collapsed systematically and consistently against the rival's target score of 214. How 165 runs were made in 10 overs by the last wicket partnership and how fours and sixes were scored abundantly through shots yet to be named, can't be explained in words. Did I mention Veera broke her arms but still continued batting ? Or about the winning four runs scored by running between the wicket ? Everything is fair in love and gobar. At the end not only Vicky won the Aman Cup, he also reunited his family, Rohan got Veera, Veera got a chance to give a lecture on gender bias, the people of Pakistan got basic education about gender equality and finally Yashraj stroke another mainstream nail on the entertainment coffin. There's no bar for gobar.
Colour
Sample the picture below.
Punjabi
Pind da shera, Hadippa, Chak de Phatte, colourful dances, dhol, beautiful DDLJ references, sarso de khet, kudi di chunri, munde, lassi, rabid-jalebi, khatiya- almost all the essential Punjabi elements were present. The essence of Punjab is also explained with lucid verses – 'Aa Gaye Ji Punjab Ke Sher, With Bhangra Bistar Beer Butter' and
Oye Nach karenge touch karenge bachle ve yaara / Ajj to hum too much karenge bachle ve yaara/
Ajj discowale khisko bai desi beat bajani….In catchy upbeat tune.
Very thoughtful poetry like 'Chewing gum hai chabbi jaa/ Hand pump hai dabbi jaa/ Pipe te jussa kaddi jaa " is sung when  the end credits roll, which probably explains YR philosophy of movies.
Social Message
The movie elucidates many complicated issues simultaneously, just in case any audience fails to get one of them, he would catch the other. We have cricket, gender bias, family unity, India- Pakistan sensitivities all dovetailed within a love story. Howzzat?
I also think the movie subtly talks about the following causes, which did not miss my attention-
Economic recession and revival – Sherlyn Chopra started with paltry microgarments but finally wore a full length saree.
Professionalism- Rakhi Sawant just dances around and shows her tattoos but never talks.
Prevention of cruelty to animals- a bad joke on buffalo was objected by the female protagonist.
Sexual liberation- Difference between a man and a woman is just facial hair, is a myth. The difference can be exposed only by dropping a towel.
Other observations and inferences
Punjab is colourful. Farms are green; sky is blue and they paint their room dark red.
Rani Mukherjee is as cheerful, agile and carefree as a model of 'Careless Whisper '  advert.
Shahid Kapoor is working out too much. His sense of touch is covered by heaps of muscles.
It was not clear how Veera managed to tackle 'those days of month' during the heavy practice sessions over six months. But such detail would probably hurt Indian sensibilities.
Some cinematic details are deliberately avoided- like how the truck crossed the car on the single lane mud road. Again only cynical critics observe such foolish details and demand explanations.
On a scale of nudity and ugliness Sherlyn Chopra would score more than Rakhi Sawant.
Anupam Kher works with sincerity and conviction in whatever crap role he is put into.
Recommendation
In case you Wanted violence, blood and action this movie is not for you. If you look for qualities like logic and common sense in the script, it's not for you. If you love cricket this is not for you.
But, if you want your Punjabi curry cooked in gobar gas, go for it.
Related Read ( Manually added)

Posted by ~uh~™ in Bollywood, Graphics, Movies, Mumbai.
Tags: 16mm film, Anupam Kher, Dark comedy, Dilip Prabhawalkar, Kay Kay Menon, Manoj Pahwa, Movies, Pankaj Advani, Review, Rimi Sen, Sankat City, underground, Yashpal Sharma
7 comments
A truncated version of  the review was published on PFC, which is blessed by a comment from Anurag Kashyap.
This is the original poster, with the original release date. the movie finally released on 10th July 09.
I watched Sankat City at the premier show on 8th July. The brief account of my experience, accompanied by few poor quality celebrity pictures ( i.e. poor quality is of the pictures) can be read here.
What I did not mention there, is that I was sitting beside Aamir Bashir (who played the other cop with Jimmy Shergil in A Wednesday) and Anurag Kashyap few seats away on the same row. Anupam Kher stood on the aisle and started clapping when the movie started.
I wanted my family to see it, so I went for a second viewing. I was disappointed to find out the movie was not running at Fame or Cinemax near our place. Only PVR ( Oberoi Mall, Goregaon) had a single show at 10 30 pm at night and the newly built Braodway (Borivali) had 11 30 Pm had At Movietime Multiplex. At The Hub, Goregaon, seats were only available at the first and second row from the screen! I was happy that the house is full, but my happiness was short-lived when I learnt that the screen # 7 has only 6 rows ! Out of 42 odd seats only 2 were empty when the show started. The film was screened on a digital print through UFO movies, the quality of which was poorer than PVR.
Sankat City is a black comedy based on idiosyncratic charters of the crime underbelly of a thronging megapolis, directed by Pankaj Advani.  Quoting the Director's own words "Sankat City is a wild roller coaster romp through the underbelly of a teeming metropolis, featuring an assortment of zany characters – a carthief, a conwoman, gangster, godman, film producer, builder, actor, his duplicate, mechanic, prostitute, chauffeur, hitman, cabbie etc; desperate men and women shadowboxing with the vagaries of chance and fate, whose madcap antics result in their lives getting inextricably entwined with each other, leading to madness and mayhem." [ Source Link]

As I consider myself smarter than other reviewers, I will not waste typing characters to explain the plot. Please refer the Bubble Diagram below to get an idea of the same (note: I am an Architect and an Architect always believes in visual communication than anything else, the more complicated it is, the better). A note of caution to the sharp and observant readers- the diagram reveals plot spoilers. Decipher at your own risk.
The motley cast is as follows -
1. Gogi Kukreja (Manoj Pahwa) – as producer director of B grade potboilers and owner of GAI (Gogi Arts International). Manoj Pahwa has been remarkable funny in Naya Office Office, as the samosa eating babu of the BMC office.
2. Lingam – Gogi's Manager Sanjay Mishra (Those who see Naya Office Office, he plays the paan chewing peon)
3. Fillip Fattu (Hemant Pandey) Faujdaar's chauffeur and lover of Gulbadan, as prostitute at a shady 'La La Lodge'. ( He acts in Naya Office Office too)
4. Faujdaar- The central character, hub of all plots, an ex- gangster and loan shark, who also owns a nightclub named Jhooom (with an extra O ), enacted by Anupam Kher. He recalls the character of matchless inspector Giridhar from Mukul Anand's Hum.
5. Guru – Kay Kay Menon, a smalltime car thief and conman in dire straits. Loves fish as his children and keeps plenty of them in his kholi.
6. Mona (Rimi Sen)-  an impish Bengali conwoman and seductress.
7. Ganpat – (Dilip Prabhawalkar) owner of a dilapidated garage and Guru's uncle.
8. Sikandar Khan (Chunky Pandey) – plays a double role, that of the flop B grade film actor and Sheshaiyya, his Hyderabadi duplicate,
9. Suleman Supari (Rahul Dev) plays a cold blooded professional hitman with a sniper rifle.
10. Pawan Pachisia (Yashpal Sharma) – a builder suffering from defaulted loans, dissatisfied libido, acidity and diarrhea.
11. Swamiji (Virendra Saxena)- A beer guzzling, homosexual, non vegetarian Godman and spiritual guru of Faujdaar.
12. Gulbadan (Sunita Rajwar)– Cheap dhandewali at La La lodge and Fillip's girlfriend.
13. Lovely (Jehangir Khan) Faujdaar's jat sidekick.
14. Sardarji Gurpal Singh the Taxiwalla looking for his long lost brother through the locket.
15. Sharafat (Shrivallabh Vyas) – Dealer of stolen car and well wisher of Guru and Ganpat.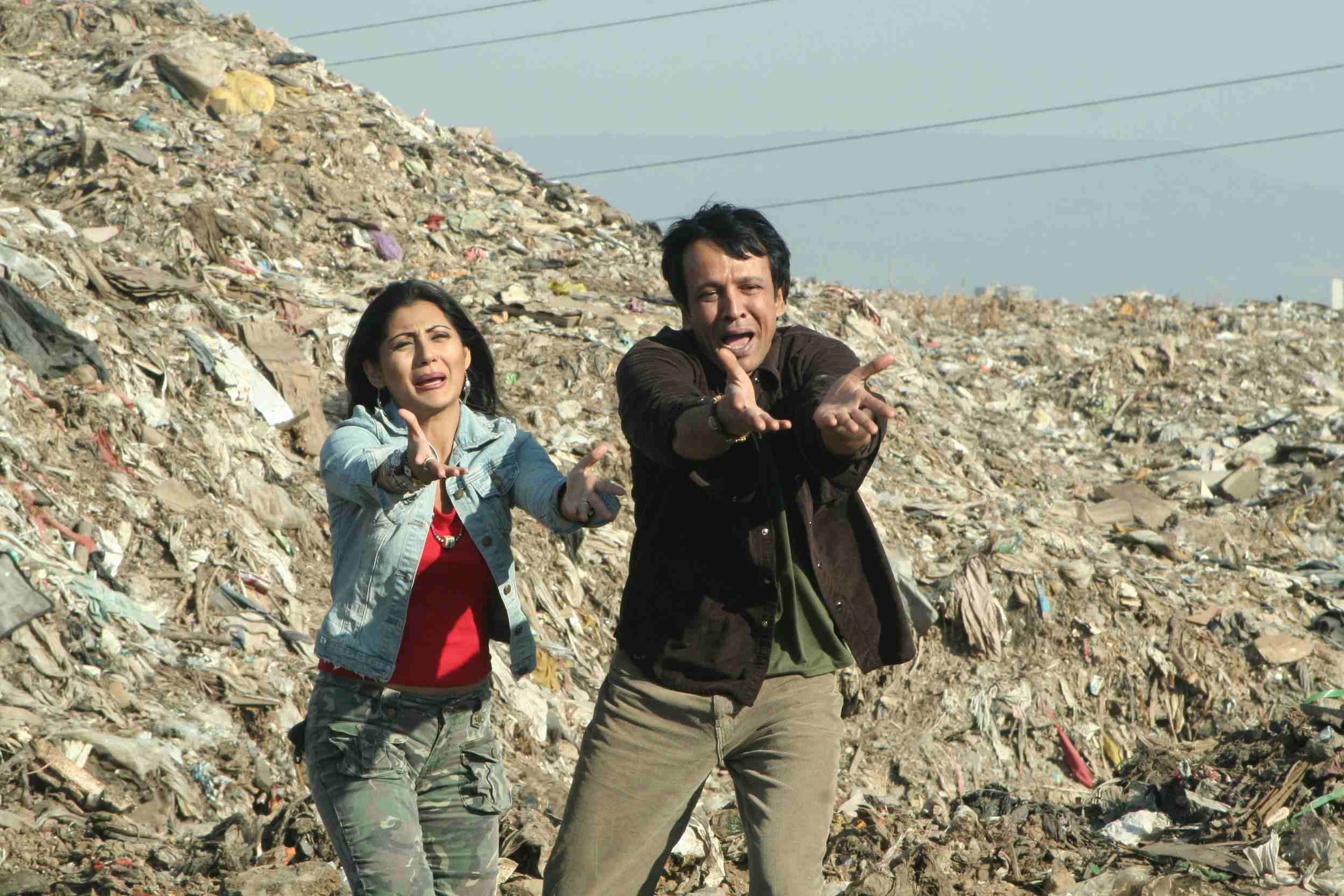 The Forced Farce of Clichés
As you must gave figured now, the characters bump into each other, crosses each others path and confronts each other with a twist in the tale at every scene. The movie moves fast with all incidences supported by logic and continuity. This is Guy Ritchie stuff with a complete desi flavour. This is a movie built on movie clichés. People leave their car keys on the car, brothers don the same locket till they meet each other, bags get exchanged, people are conned at a jiffy, people lose and gain their yaardasht with accidents and death is a loud and hilarious celebration – all for entertainment.
But Sankat City is not just a film-farce piggy back ride formulae . It showcases the inhabitant's subtle and surreal dreams and despairs represented magnificently through chewing gums, bubble gums, fishes and garbage. Love for fishes are so powerful that Guru dreams of a mermaid, sitting on a mountain of garbage he pokes the moon bubblegum and darkness sets in. A downtrodden driver gives supari for his boss, to reclaim his love for a dhandewali. Sankat City captures the subterranean flow of love and life amidst filth and dirt, underneath the jazzy surface of a metro. It's zany yet logical, it's black but sensual.
Mind you, Sankat City is like rough and unpolished Shahbad stone comedy than a fake Italian marble (Cash, Golmaal Returns, Kambaqt Ishq and the likes). So it's not brittle and slick but hard, bold and multipurpose.
The film is shot in 16 mm film instead of 35 mm which creates a grainy picture quality adding grittiness to the already rough visual journey. The entire movie was shot in 30 days flat, in various locations from shady nightclubs, dingy bars, hospital, dilapidated garage, one room kholi and garbage dumpyard. The sets are absolutely convincingly real- especially the garage. The typical Mumbai essence is retained through precise detailing- the fare of Best bus to the amount of fine to be paid to retreive towed away vehicles.
Humour and Performance
The humour of the movie varies from slapstick to tounge-in-cheek and at places simply side spilltingly hilarious, all you need to pick up the gems from the numerous antics of the characters, at the right moment. Manoj Pahwa and Yashpal Sharma enacts an excellent partnership to deliver some brilliantly funny moment. I especially loved the hospital sequence where Gogi describes the condition of the 'body' of Sikandar Khan over phone, in front of his family members. Real dark humour. Kay Kay appears in a complete different avatar from what we have seen him doing. At places his shots/ dialouges are stretched a bit long. Coupled with ostentatious Rimi the duo delivers some fine moments. Rimi uses pure Bengali expletives from humble goru to the grade of shuorer bachcha and other phrases which is a bonus for viewers who understands the language. Unfortunately those can't be translated without sacrificing the fun. But the show stealing performance is from Anupam Kher, who is a treat to watch in every scene he appears on screen. Watch out for the dance number with a southie dynamite- can only be done by Anupam Kher. Chunkey Pande was louder than required (in all sense till his end) as Sikander and was grotesquely comic as Sheshaiyya. Like he used the term- kirkiri of a performance, whatever it means. All other supporting actors are notable for their respective roles, but Jehangir Khan needs a special mention as Lovely the heavy handed sidekick. A brilliant character portrayal with perfect jat lingo and looks.
God is in the Details
There are humongous detailing on the film which adds to the humour quotient. Some of my observations
• A poster of Gone in 60 seconds at Guru's home.
• The printed Bermudas of Faujdaar.
• The printed shirts of Fillip Fattu.
• The Jimmy Hendrix get-up of Guru.
• Use of bubble gum to convey feelings.
• Deliberate usage of beaten to death cliché's.
• Ganpat's memory loss antics and the 'Main kaun chhe mujhe khabar ba thi' lullaby.
• The pose of Guruji in the huge frame in Faujdaar's office
• Gogi's female secretary's body language (reminded me of a girl seen in a B film long ago)
• King of the garbage land (reminded me the ganglord of car junkyard in Barb Wire)
The film does stumble and jump at places at the story telling/ editing front, and it's difficult to keep track of the fast happenings at certain places, but the characters and the humour make it up so Jaane Bhi Do Yaaron.The bgm is jarringly loud except for that sarararara part for the softer scenes with Rimi. The jazz number in the bar and the choreography is trendy (in similar treatment of No Smoking and Twilight Players of Dev D). The fast camera pans over mumbai skyline were a bit painful to eyes in the UFO print version.
The film has a U/A rating and clean to take children along. The couple of sexual innuendos are subtle and there's no skin show, except for the Swamiji's bath scene with Fillip.
Enjoy this underbelly dance with Sankat City. Go watch it with family.